AmCham HK Releases 2022 Business Sentiment Survey Report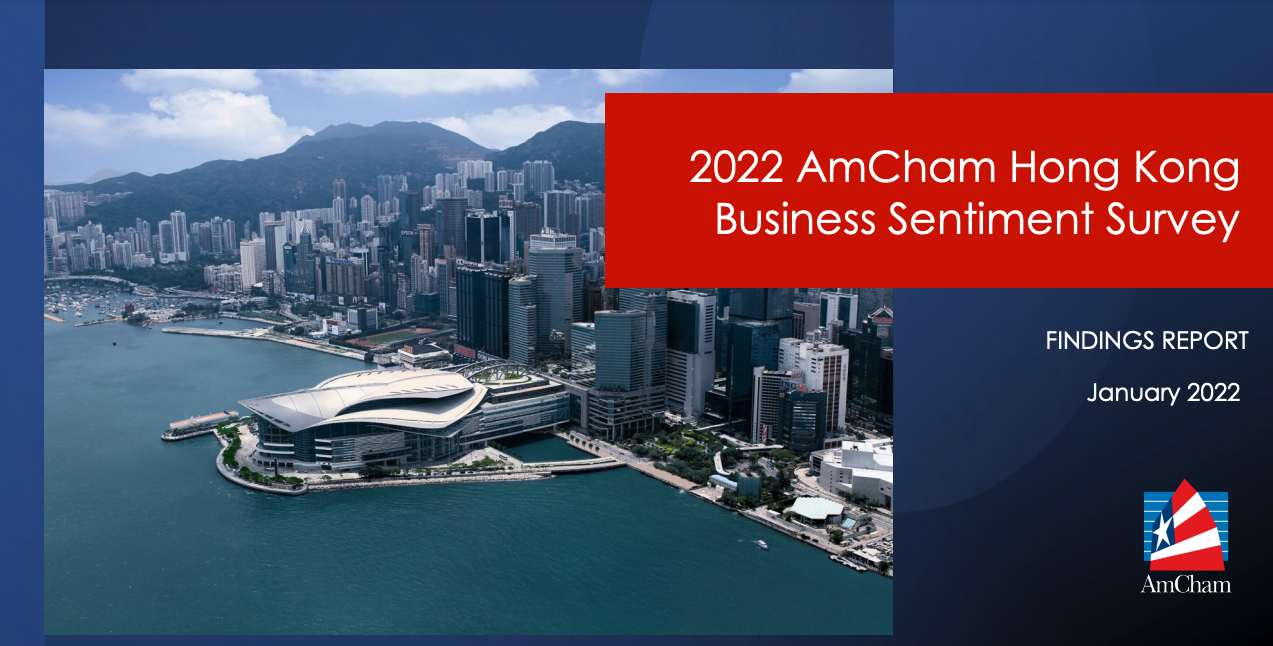 January 19, 2022 – HONG KONG – The American Chamber of Commerce in Hong Kong ("AmCham") released its 2022 Business Sentiment Survey Report today.
The survey captures both sectoral and wide ranging views on the outlook for business in Hong Kong. It also focuses on what our membership believes Hong Kong needs to do in order to maintain its competitive edge after two years of battling the COVID-19 pandemic and other developments. This year, AmCham partnered with Intuit Research, a professional research company, to design, process and analyze the survey findings.
"AmCham is committed to support its membership and the broader international business community to voice concerns; We have a long-standing role as a partner to the government to advocate for change in public policy that will help Hong Kong thrive as a global business hub," said AmCham President Tara Joseph.
"For over 50 years, the Chamber has been proud to serve as an objective, honest broker. Given the challenges of the past few years, it is now more important than ever to remain vocal in areas that are relevant to Hong Kong's sustainable success," added Joseph.
Below is a summary of the survey's takeaways:
Hong Kong still holds many business opportunities but an array of issues, particularly travel measures that are increasingly out of step with international practice, fraught US-China relations and the continuing challenges of the COVID pandemic weigh on this year's overall sentiment.
Businesses are generally optimistic about Hong Kong's business outlook with plans to expand in investments for the next 24 months. Hong Kong's transport and logistics and the financial services sectors among the most optimistic.
Hong Kong's international travel restrictions to contain COVID-19 weigh heavily on both company and personal sentiment. With 6 out of 10 businesses are based in Hong Kong as their global or regional headquarters, hefty quarantine rules and travel restrictions continue to cause significant disruptions in offices outside Hong Kong. Over 30% of respondents have had to delay new investments in Hong Kong and 30% struggle to fill senior executive roles.
Travel restrictions also weigh heavily on sentiment about living in Hong Kong, from both a company and personal perspective. Over 40% are more likely to leave the city from a personal perspective, and over 25% of companies say they are more likely to leave Hong Kong.
On assessing future plans, only 5% of global/regional headquarters have definite plans to move their headquarters out of Hong Kong, though half are unsure. Hong Kong is seen by the majority to be competitive as a global hub, however Singapore (80%) is considered to be the biggest threat to the city given its strategic location and pro-business approach.
86% of companies express that the US-China relationship has had some impact on their businesses, leading to uncertainties in business outlook. There is also a general pessimism about the outlook for improved relations.
There is a perception that foreign businesses are less welcome in Hong Kong than in 2020. More than half our respondents feel the Government is "unconcerned" or "dismissive" about business concerns.
Over 8 in 10 businesses operations have felt the impact of the National Security Law, particularly when it comes to staff morale and loss of employees who have emigrated.
Nearly 60% of respondents say Hong Kong's rule of law has worsened in the last 12 months, and 23% do not feel confident in the rule of law in Hong Kong.
Businesses universally feel that free access to the Internet and information platforms is important, with 51% currently satisfied with data freedom in Hong Kong; however 42% believe they may not be able to continue to have free Internet access in the future.
Majority of companies already have presence in the Greater Bay Area (GBA), with Shenzhen and Guangzhou the most popular cities. 49% of companies are optimistic about business opportunities in the GBA in the next 3 years. However, policy and regulatory uncertainties, cross border movement of people are among the top challenges that have to be addressed.
"I hope this survey will serve as a launch point for discussion and collaboration to make Hong Kong a top destination for businesses from across the world. Hong Kong has always renewed and refocused after challenging times, and hopefully business, government and residents can work together to surmount challenges," said Joseph.
Click here to view the full report. For Chinese version, click here.