COVID-19 Information
American Citizen Support 
For any enquiries, please contact the US Consulate's American Citizen Services Unit by email at acshk@state.gov 
U.S. Citizens in need of immediate consular assistance should contact the American Citizen Services Unit at +852-2841-2211 during regular business hours (8:30 am to 5:30 pm Monday-Friday). For deaths, arrests, hospitalizations, or other emergencies involving U.S. citizens outside of these hours, please call +852-2523-9011, press 2 for English and 1 for emergencies to be connected to our after-hours duty officer.  If you are calling from the U.S., please dial 011-852-2523-9011.
For more information, click here. 
Detailed travellers information regarding entering Hong Kong is available at the US Consulate General's website.
---
Get Vaccinated with AmCham HK!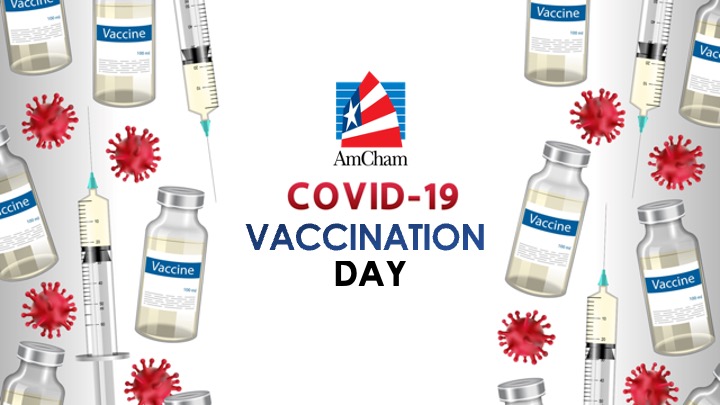 If you are interested in getting vaccinated with AmCham as a group, please submit the following documents to dchan@amcham.org.hk no later than April 23, 2021:
AmCham has secured a session for Sinovac and BioNTech vaccine respectively: 
Before the vaccination day:
It is important to consult a doctor before signing up via AmCham. 
Before arriving at the CVC, participants are requested to submit the registration form (Coronavac / BioNTech) and consent form to AmCham to facilitate the booking of the vaccination session. Participants are also requested to read and understand the factsheet and statement. 
On the day of your first dose:
The staff of the Community Vaccination Centre ("CVC") will arrange for each participant to have their personal and vaccination-related data registered via the online booking system. 
During the registration, the CVC staff will request each participant to make a confirmation or declaration regarding items mentioned above.
Furthermore, during the registration, unless otherwise requested by individual participants, the CVC staff will register the booking for the second dose (including the CVC, date and time) for the participants. 
Upon completion of registration, the CVC staff will print the confirmation of vaccination booking for each successfully registered participant.
After registration and injection of the first dose:
Take the second dose in accordance with the booking details (including the CVC, date and time) set out in the confirmation of vaccination booking. Participants need not register again on the day of the second dose.
---
HKSAR COVID-19 Vaccination Program 
To safeguard public health and to allow the resuming of normal activities of society gradually, the Hong Kong Government is implementing a territory-wide COVID-19 Vaccination Programme (the "Programme") free of charge for all Hong Kong residents.
Types of Vaccines
The Government plans to provide the public with the following COVID-19 vaccines:
Inactivated virus technology platform - by Sinovac Biotech (Hong Kong) Limited
mRNA technology platform - by Fosun Pharma in collaboration with the German drug manufacturer BioNTech (BNT162b2 mRNA vaccine)
Non-replicating viral vector technology platform - by AstraZeneca, in collaboration with the University of Oxford.
The Government will continue sourcing safe and effective vaccines from other vaccine manufacturers or drug companies.
Priority Groups
In January 2021, the Scientific Committee on Emerging and Zoonotic Diseases (SCEZD), the Scientific Committee on Vaccine Preventable Diseases (SCVPD), and the Expert Advisory Panel to Chief Executive (EAP) recommended on the following priority groups for COVID-19 vaccination in Hong Kong, in order of vaccination:
First: Residents and staff of residential care homes for the elderly/persons with disabilities and other institutional facilities;
Second: Workers in health-care settings, workers in other essential services who are at increased risk of exposure to COVID-19, and persons aged 60 years or above; and
Third: Persons with chronic medical problems aged between 16 and 59 years.
According to the above recommendations, and taking into account the supply situation of the vaccines and the progress of the vaccination programme, the Government decided to arrange priority vaccination for the groups below:
Persons aged 30 years or above (a maximum of two carers who accompany elderly people aged 70 or above can also receive vaccination)
Personnel in healthcare settings and those participating in anti-epidemic related work
Residents and staff of residential care homes for the elderly / persons with disabilities and staff of Community Care Service units for the elderly / persons with disabilities
Personnel maintaining critical public services
Personnel providing cross-boundary transportation or working at control points and ports
Staff of food and beverages premises, markets, supermarkets, convenience stores and couriers (including takeaway food delivery)
Staff of local public transport service operators (e.g. taxi/bus/public light bus drivers, train captains and station staff)
Registered construction workers and other resident site personnel
Staff of property management (e.g. security guards, cleaning staff and property management office staff)
Teachers and school staff (e.g. teaching and support staff of kindergartens, primary and secondary schools and universities; staff of special schools; and drivers and escorts of school buses and school private light buses)
Staff of the tourism industry
Staff of scheduled premises under the Prevention and Control of Disease (Requirements and Directions) (Business and Premises) Regulation (Cap. 599F) (e.g. staff of fitness centres and beauty parlours)
Students studying outside Hong Kong (aged 16 years or above)
Domestic helpers
For a person (whether or not he/she is aged 30 years or above) who belongs to a priority group, please indicate his/her profession when making online booking at the designated website or appointment with private clinics participating in the Vaccination Programme for statistical purpose.
For more information about the Program, click here.